Franco-American artist born in Mallorca currently living in Bordeaux.
"I explore abstraction within a large format by using different painting materials.
My painting is part of the Abstract Expressionism current where the spontaneous gesture is highlighted."
Artiste franco-américaine née à Majorque et actuellement vivant à Bordeaux.
« Ma peinture s'inscrit dans le courant expressionniste abstrait en mettant en valeur le geste spontané.
Ma recherche en tant qu'artiste porte sur des questionnements d'identité et de société. »
Works avalable on Artsy.net
Œuvres en vente sur Artsy.net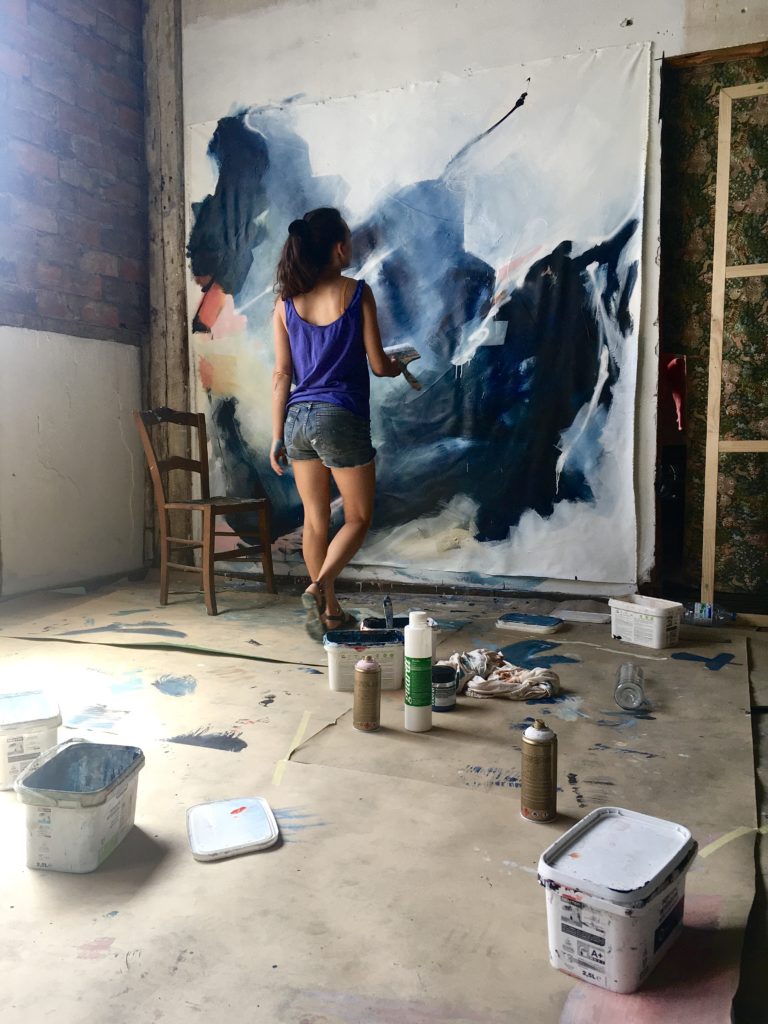 BIOGRAPHY
Mallorca, 1987. Based in Bordeaux
Franco-American artist Gabriela Meunié started her career as a painter, following her art studies in Mallorca and Barcelona. Over time, she has increasingly adopted new materials, such as plaster and fabrics, as well as created sculptures and installations.
Influenced by north-American artists like Suzanne McClelland and Joan Mitchell, Gabriela explores the limits of painting as regards to its ability to reflect complex concepts, in the same way that poetry explores the limits of language.
She explores abstraction using different painting materials in large format works and her painting is part of the Abstract Expressionism current where the spontaneous gesture is highlighted.
Through her creations, Meunié also reflects on social issues like gender, class and generational clashes: "My artistic search centers on the key ongoing changes that will define the future of our civilization."
ACTUALLY galleritz.com
Curriculum Vitae
born in Mallorca (ES) based in Bordeaux (FR)
2008 Graduate in plastic arts, focus on painting and photography.
 Academy of Art Massana, Barcelona
SELECTED EXHIBITIONS
2021 galleritz.com
2020 "La vitrine éphémère" (Libourne, France)
2019 Exhibition Barnes Immobilier (Bordeaux)
         Gallery Le LaboratoireBx, (Bordeaux)
2017 Gallery Le Garage Moderne, (Bordeaux)
2016 Gallery DRAPS Palma (Mallorca)
2015 Exhibition EDITH, (Bordeaux)
         Gallery Tryptique, (Bordeaux)
2014 Exhibition Casa de Cultura Santanyi (Mallorca)
2013 Gallery L-Ombilical (Bordeaux)
         Installation, Atelier d'Architecture King Kong. (Bordeaux)
FUNDING AND PROMOTION
2018    Service du soutien à la création – Cnap
            Centre national des arts plastiques, Paris
2020    Fonds d'urgence déployé par le Cnap, avec la contribution de la société ADAGP et de l'Académie des Beaux Art
Shivers Down the Spine
History and emotions break off into colors creating dialectic between influence and the search for one's own way, between generations that drink from each other and at the same time are confronted.
Evoking and turning the light onto what is farther than seen, from the texture farther than the color: a reflection for the search of truth. Truth pounding in ones chest to the rhythm felt beyond materialism and consumerism which is blinding, wounding our souls and our perceptions – to the truth that clashes against the power making us accumulate forgetfulness to who we are.
Gabriela Meunié is in each brushstroke, in each search for fate that dances through her fingers. The influence is the light that caresses her spine; a shiver designs wings of freedom and guards her to fly faraway, without fear, and at the same time saves us. As Kandinsky said; behind each art piece hides mysteriously an entire life, an entire life with much suffering, doubts, hours of enthusiasm and light. Gabriela's soul claims through every gap of light, giving us her personal search in her own way, traces of her life that transcend the paintings, the colors, randomness,…a gentile and sweet immaterial trace.
Her works break through frontiers and become a bridge that bonds us with the universe, with the cosmos oscillating and chaotic truth. Desire and compromise are confused, life and painting live together in every brushstroke, finding each other to explore what is underneath the raw layers, dangerous superficiality and the beauty becomes in the moment, imprecisely, unexpectedly, flowing and the miracle dances within the abyss. The occult mystery hides behind the colors, between the silences of those we will most love, and how they showed us to love the precise moment our chests were emptied, the sight.
To paint, create to shake the pain, sadness, emotions and the inherited paintings to kindle a fire within the hands and from the ashes leave all that has been lost, drops of pain´s light and to be born between tear drops, impossible melodies of color.
Each brushstroke shreds the frontier between life and art because the painting that dreams and creates is so much itself that it´s like feeling a part of it in the eyes, the chest and the heart. Letting us form part of its story and its very essence.
Emerging out of the darkness and pain with waves that crackle into colors of water, with impossible bodies, with metaphors of light, with the necessity to say everything, spreading her spirit, her mind in every trace, matter that transcends and travels towards a true interior contemplation. From every crack of the soul that is contemplated as a magical opening to the authentic I…from the authentic Gabriela…is truthfulness. It is the quitting shaping of her diverse identity, creating uncertain paths, like labyrinths and horizons that design the being´s freedom, to love, within her body and within her soul. Images and emotions find themselves within a silence, they are confused, and they embrace to fill our eyes with internal vision of her interior life.
                                                       During a winter solstice that flares up into the eyes..
    Jesús Camargo
Traduction by Susan Gray