Franco-American artist born in Mallorca currently living in Bordeaux.
"I explore abstraction within a large format by using different painting materials.
My painting is part of the Abstract Expressionism current where the spontaneous gesture is highlighted."
Artiste franco-américaine née à Majorque et actuellement vivant à Bordeaux.
"J'explore à travers la matière picturale, l'abstraction et le grand format. Ma peinture s'inscrit dans le courant expressionniste abstrait en mettant en valeur le geste spontané."
Works avalable on Artsy.net
Œuvres en vente sur Artsy.net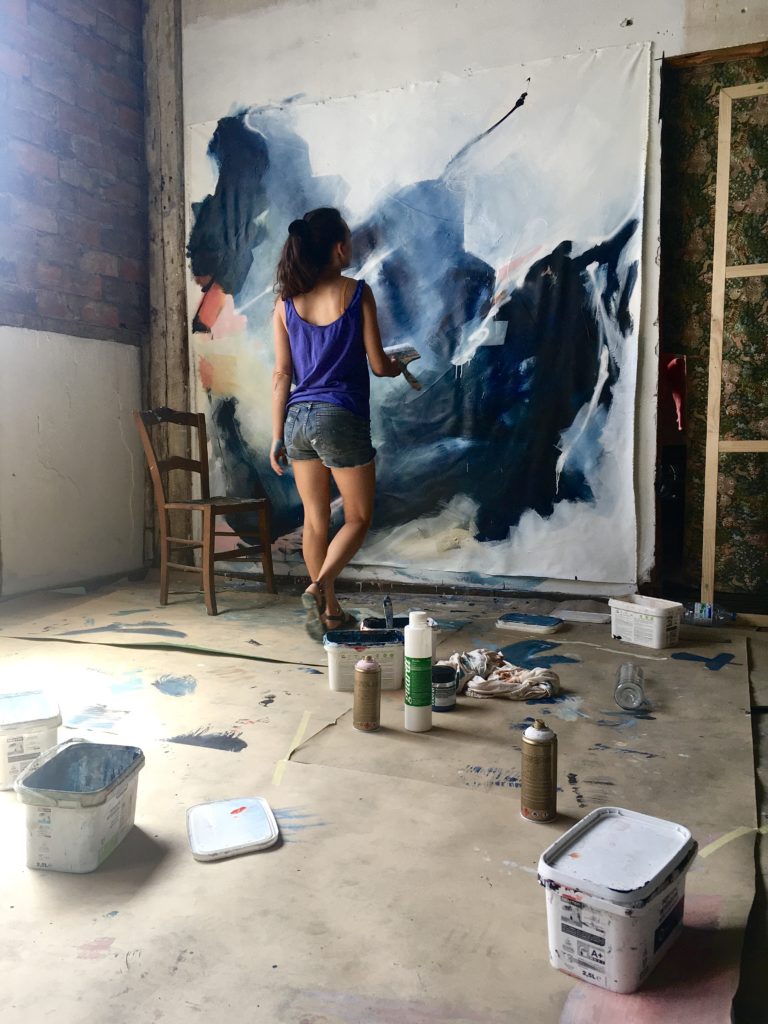 BIOGRAPHY
Mallorca, 1987. Based in Bordeaux
Gabriela Meunié's work arises from a particular life context: French-American born in Mallorca, she was imbued with the abstract artistic currents that flourished on the Mediterranean island during the eighties.
Although her formative years took place in the academic field, she has always felt part of the abstract expressionist current. In line with her precedents, she emphasizes the process to avoid theoretical excess. Meunié's method is, hence, defined by spontaneity and instinct.
She creates her own colors based on pure pigments, acrylic binder, and acrylic colors. On the canvas, the materials express themselves in an interplay of opacities, densities, spots, and splashes that constitute the artist's meticulous vocabulary. Meunié applies it with thick brushstrokes and builds the canvas through layers. Even though the piece is to be considered finished, it continues to speak to its witnesses.
GALLERY COLLABORATION:
CASAESTUDIOGRANADOS, BARCELONA, MENORCA
Curriculum Vitae
born in Mallorca (ES) based in Bordeaux (FR)
2010 Graduate in plastic arts, focus on painting.
 Academy of Art Massana, Barcelona
SELECTED EXHIBITIONS
2023   Gallery Casa Estudio Granados, Menorca (ES)
2022     Radisson Blu, Bordeaux (FR)

2021    Gallery Galleritz, Barcelona (ES)
2020    La vitrine éphémère, Libourne (FR)
2019    Barnes Immobilier Bordeaux (FR)
            Gallery Le LaboratoireBx, Bordeaux (FR)
2017    Gallery Le Garage Moderne, Bordeaux (FR)
2015    EDITH, Bordeaux (FR)
            Gallery Tryptique, Bordeaux (FR)
2014    Casa de Cultura Santanyi, Mallorca (ES)
2013.   Gallery L-Ombilical, Bordeaux (FR)
            Installation, Atelier d'Architecture King Kong (FR)
FUNDING AND PROMOTION
2022    Service du soutien à la création, Centre national des arts plastiques, Paris
2020    Contribution de la société ADAGP et de l'Académie des Beaux Art
2018    Service du soutien à la création – Cnap, Centre national des arts plastiques, Paris
STATEMENT
L'œuvre de Gabriela Meunié est née d'un contexte de vie particulier : franco-américaine née à Majorque, elle a été imprégnée des courants artistiques abstraits qui ont fleuri sur l'île méditerranéenne au cours des années quatre-vingt.
Bien que ses années de formation se soient déroulées dans le domaine académique, elle s'est toujours sentie appartenir au courant expressionniste abstrait. Dans la lignée de ses précédents, elle met l'accent sur la démarche pour éviter les excès théoriques. La méthode de Meunié est donc définie par la spontanéité et l'instinct.
Elle crée ses propres couleurs à base de pigments purs, de liant acrylique et de couleurs acryliques. Sur la toile, les matières s'expriment dans un jeu d'opacités, de densités, de taches et d'éclaboussures qui constituent le vocabulaire minutieux de l'artiste. Meunié l'applique à coups de pinceau épais et construit la toile par couches. Même si l'œuvre doit être considérée comme achevée, elle continue de parler à ses témoins.
Cecília Peña